Lionheart Bernese Mountain Dogs was established in 1993 after we acquired our first bernese, CH Pioneers Liberty, from Ruth Reynolds. I was SO amazed by the depth of character in this breed that is wasn't long before I went looking for number two, and our first champion, CH Pioneers off to Oz v Kruggerand.
These two were quite the pair and the more time I spent with them while acheiving their championships and with other berners, the more head over heels I became with this breed.
I was fortunate to be one of the lucky ones that come into this breed with a wonderful breeder/mentor. Ruth taught me a lot about the breed as well as the type of breeder I wanted to be.
I thank Ruth for taking the time with me, having the patience to deal with me and my many questions and for believing in me enough to trust me with her amazing dogs.
Since then I have gone on to obtain several amazing dogs, work with many wonderful breeders and acheive many championships! I have learned more lessons from these dogs than I ever imagined possible! The biggest lesson being ... I will never quit learning from them!
I place great importance in health, longevity and soundness of both body and mind. Along with this I strive to produce dogs that possess all the breed type and characteristics that this breed was meant to possess as well as protecting the overall integrity of this beautiful breed.
I am also a HUGE supporter of Rescue... I believe that if you are breeding these dogs, you should be prepared for cleaning up the mess that popularity creates. I am the founder and president of Bernese Auction Rescue Coalition Inc, otherwise known as BARCINC. (www.barcinc.net)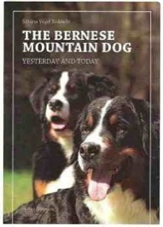 A MUST HAVE for any serious berner lover!!
The Bernese Mountain Dog
Yesterday and today
by Silvana Vogel Tedeschi
English by Lindy Kunz
This new book gives English speaking readers the first opportunity to have access to the important facts about the breed which have only been available in other languages. The interesting history of the breed is described in great detail with words and informative illustrations.
It shows how the standard is to be interpreted and how the individual traits should be considered in the show ring AND in breeding.
Particular attention is paid to the distinctive features of the temperament and behavior of these former farm dogs, showing how their history has molded their character and behavior.